Icons are used widely in design, and software designers use them to convey an idea in the absence of words. IconPro is a free tool that is used to create icons online and to improve the look of a website. Also, text can be bland and monotonous and icons help to break this monotony up.
Essentially icons represent something in a visual manner, making use of certain styles and colors, all the while helping the user to work with more ease.
Windows, for instance, uses icons to graphically represent folders and programs and the Windows desktop has a range of icons or shortcuts to programs that are used the most. People use emojis on their cell phones to convey a message to friends and families instead of using text.
There are other icon makers, but it's the free iconPRO icon maker that simplifies things. With the free iconPRO.io icon maker, you have several uses –
1. A massive library of icons
Choose from more than 50K+ icons. When you browse from the huge library of 50,000 icons, you get other choices, too, such as more than 100 backgrounds and more than 20 fonts. There are literally icons to suit every purpose.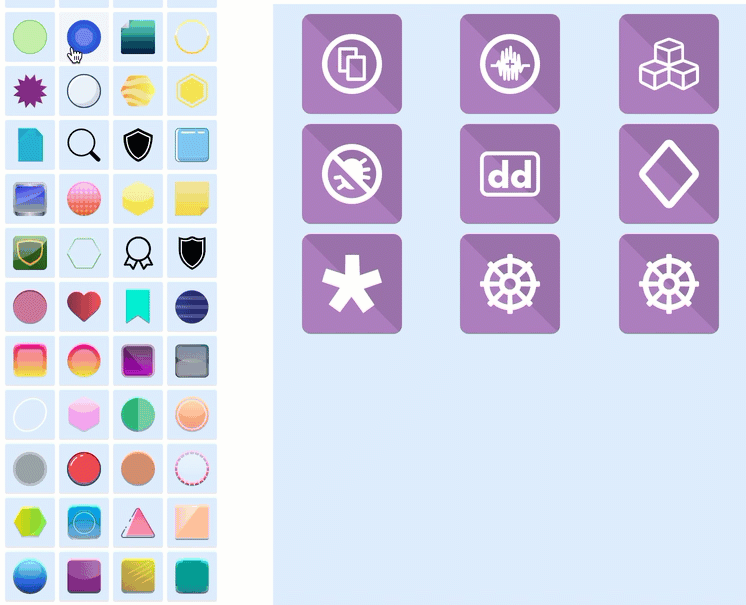 2. Useful for graphic designers
Graphic designers particularly need to make icons for websites, print media or product design. With iconPRO, the designer can build icons for publishing and save them to work on again later on.
3. Flexible designs
Creating icons is easy with iconPRO as you can change things on icons the way you want. You can alter the size and style of a host of different icons at one time and save your set of new-looking icons. You don't need to write code either to create these icons.
4. Website custom icons
You can make custom icons by clicking on the backgrounds tab of the icon maker. The different styles have their own variations, too, such as shading effects. You can also resize the custom icons using the size adjustment and further customize them to match the look of your website.
Make Icons for FREE
5. Web developers
Developers use iconPRO icon maker to make symbols that match the brand style of their website. These icons can be created for custom featured images, for instance, or for social media links.
One of our users, MakeReceipt.com, recently did a redesign of their website to improve the aesthetics of the website and make the UX (user experience) better for the end user. Rick Schmit, the product designer behind the redesign, decided to use iconPRO.io to reimagine the current icons on the website.
"We really had fun re-thinking our icons using iconPRO's tool. It literally took us about 25 minutes to build 20 different ideas using the tool and then another 30 minutes to have our team vote on the winning design of icons" said Rick.
6. Default designing tools
These add fun to websites, turning them from bland to impressive. You can edit, search and extract images with the built-in editor. You can also edit a transparent or opaque icon on your web page.
7. Drag and drop technology
This icon maker also supports the drag and drop technology. Free icons like IconPro have the drag and drop feature in different design styles for graphic design, web and mobile projects.
8. Share your icon
You can share your icon if you want, particularly if it is useful. Then it can be used by those looking for appropriate icons that can be added to their website or social media.
9. Create icon sets
Icon sets all communicate similar ideas and with an icon maker, you can make a batch of icons – an icon set. It can take quite a bit of research to produce them with the desired consistency. You'll need to decide what style your icons are going to all be – color, mono-tone, 3-dimensional, cartoon, pixel or something else and then stick with it.
10. Best format
There are different formats for the intended use of an icon, and you can export icons to SVG, JPG or PNG. Vector icons are more popular, with SVG being the ideal base format as it's a scalable format and can be used on the web in different ways.