An icon maker can be used to create graphics that symbolize features or enhance your design for your website, blog, mobile app or print media. Many designers also use icon makers to start the design process for logos, product packaging, postcards or other projects.
This comparison of online icon makers will help you decide which icon maker is best for your purposes.
Best of all – these icon makers are free to utilize.

ICOConvert – The Chinese Swiss Army Knife
ICOConvert is an icon maker and favicon generator. It is a free tool that does very basic icon generation based on an image uploaded by the user. It isn't really an "application", per se. ICOConvert is a form that submits your image to a backend process that takes your image and then applies a shape (heart, circle, square) template to the image. The result is your image in the shape requested. In order to view the output of this icon tool, you need to submit the image.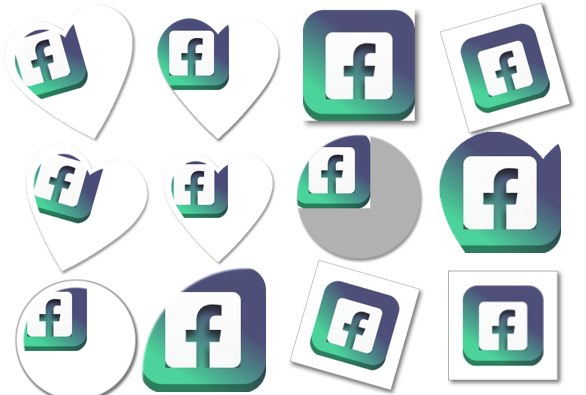 The ICOConvert icon maker tool also can create ICO icons for Windows and Favicons for websites. Favicons are just really small icons that are displayed in your browser tab to help visually identify a page. ICOConvert can also create icons in a variety of dimensions: 16x16px, 24x24px…all the way up to 256x256px.
ICOConvert is more like a Chinese-made swiss-army knife for icons. It has many functionalities but it doesn't do any one of them well. Who would possibly need to combine multiple PNGs and slam them into a single icon file?
What ICOConvert Does Best
ICOConvert offers a batch PNG to ICO converter that does work – but also relies on Adobe Flash to upload files. (Adobe Flash is being completely retired Dec 2020!) It does allow you to specify the size of the ico icon files being output – which is useful if you are making ICO icons. There is a good article on How to Customize Windows Icons and another one here from Adobe that might be useful if you are looking to create new icons for Windows.
Make Icons Now!
IconsFlow – An Icon Maker for The Masses
IconsFlow – Is an excellent online icon maker tool. This icon maker allows you to create groups of icons that look alike and have the same style and shape. The workflow is fairly straightforward. First, select multiple symbols from the icon library. Then pick a background design to utilize for the custom icon set you are creating.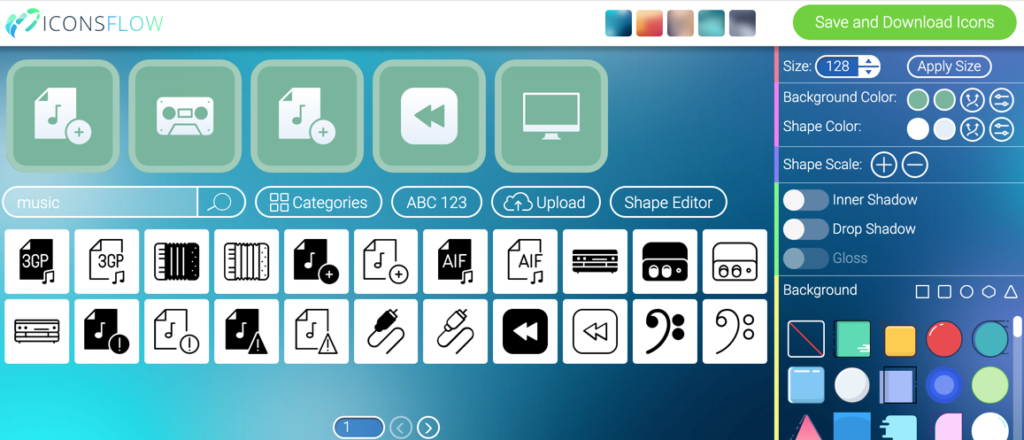 The IconsFlow icon maker has 9000 icons to choose from in the icon library, but you can also upload your own custom icons into the tool. This is very useful since there are literally millions of icons available at websites like FlatIcon.com, The Noun Project, Icons8 and other resources. You can upload icons to the icon creator tool in PNG, SVG or JPG format and IconsFlow will convert the icon into the proper format. IconsFlow also incorporates an icon editor tool that allows you to modify existing icons or create your own icon from scratch. This icon editor tool is still in Beta testing stages but works for very basic icon editing tasks.
IconsFlow Payment Model
IconsFlow utilizes a freemium model that allows you to sample the tool's abilities and pay if you determine it works for you or your business. By default, you can only download low-resolution icons and can only save 2 icon groups that you make. In order to download useful icon sizes (50px or larger) or use your custom icons in a commercial project , you need to upgrade to a paid subscription. IconsFlow offers several different pricing options. Basic ($4.99), Premium ($9.99) and Ultimate ($19.99). The Basic plan is a little limited and doesn't offer SVG icon downloading. You need to move up to the Premium plan to get SVGs and also icons that are over 128px in size. The Premium plan probably meets most users needs. IconsFlow does offer a 20% discount if you pay for the entire year subscription up-front.
X-Icon Editor – Remember MS Paint?
X-Icon Editor – Having flashbacks to 1980's? Queue the Duran Duran, please! This icon editor is pixel editor that makes creating or editing small icons a breeze. It allows you to import an image and then convert it down to 64×64, 32×32, 24×24 and 16x16px sizes with ease. These icons are the icons that display in your browser address bar.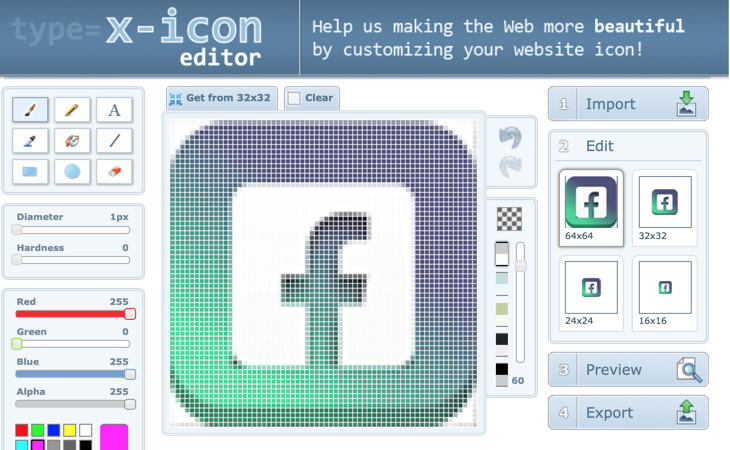 This icon editor is made create and edit browser icons. It can generate icons at a maximum output size of 64px x 64px. The icon editor has many useful features including shape tool, brush stroke size, color chooser, line tool and font tool. If you already have a larger version of your logo or icon and want to make favicons from that icon – this icon tool can do the trick. There are many other websites that make favicons: FavIcons.io, favicon-generator.org and more. These are mostly just re-sizing tools that also generate HTML code to help you add your favicon to your website. X-Icon Editor separates itself from this group of favicon tools by allowing you to actually edit your icon pixel-by-pixel.
A Preview Tool that Shines!
One great feature of X-Icon Editor the Preview tool. This view allows you to see exactly how your icon will appear in the browser bar or Windows dock bar. The only thing missing from this view are mobile device rendering (Android, iOS..etc) of the icons.

ICONION – Mac / Windows application
ICONION – Created in early 2014, this is a Windows and Mac application that you download and install on your computer. It uses a dozen or so icon libraries ( Entypo, Font Awesome, Iconia, Linea, Linecons, Line Icons, Themify and Typeicons ) as options for icons to begin your icon design. Once you choose a few icons, you can then apply an icon style to all of these icons. The tool allows you to further edit the icons by adding color gradients, borders, shadows and more.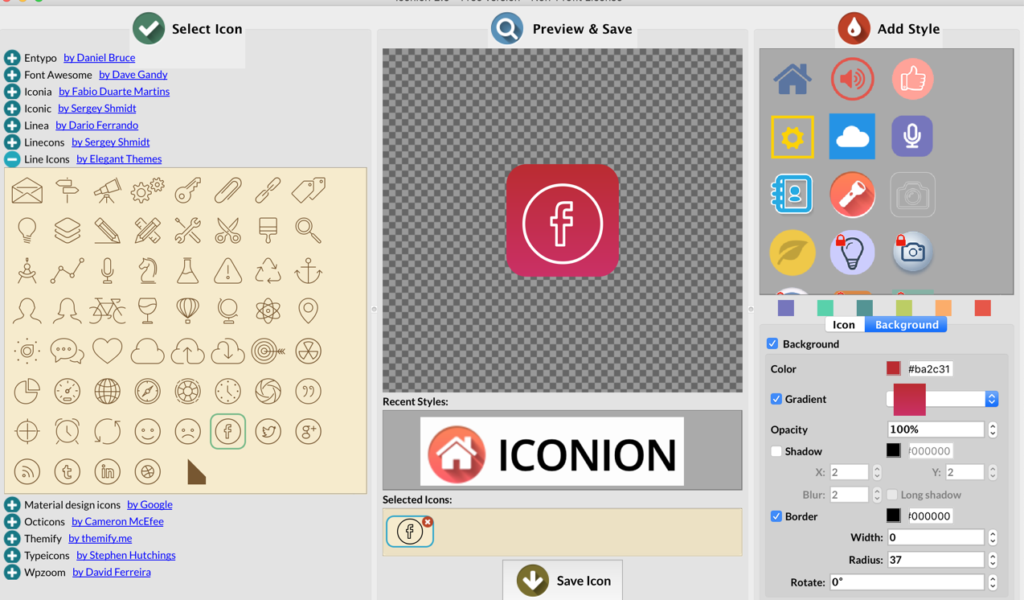 The ICONION tool is fairly intuitive and offers the ability to download icons in sizes up to 1024px x 1024px. This icon maker outputs icons in PNG, ICO, BMP, ICO format. It offers 10 FREE icon styles but can be upgraded for $69.95 to unlock an additional 30+ icon styles.
The only application-based Icon Maker tool among the Cloud-based tools.
ICONION is a desktop application. We hope to see an online version of this tool since we are now in the era of online tools that provide sharing, cloud storage, available anywhere/anytime tools. It is also limited in the number of icons available since the built-in library of icons is small and there is no ability to upload your own icons.
The upside of ICONION is it is a pay-once and use forever (or at least until the application is supported by your Windows or Mac operating system) tool. At $69.95, the cost is high for a one or two-time use to make a few icons. But if you are looking for an icon maker that you can use for 3-5 years and isn't a monthly or annual subscription – this icon maker tool is for you.